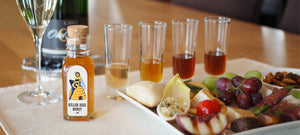 PRIVATE HONEY TASTING
& CULINARY EXPERIENCE
Join us on the beautiful Killer Bees Honey mountaintop, with an iconic view of the Blue Ridge Mountains, for the Original Killer Bees Honey Tasting
Killer Bees Honey presents a delightfully delicious discussion and exploration of honey. Our experiences are guided by hive master and chief connoisseur, Sean Collinsworth. Sean is a certified North Carolina beekeeper, having managed bees for over 30 years. He is one of a handful of Americans to be certified with the Italian Register of Experts in the Sensory Analysis of Honey; fondly known as a "Honey Sommelier". Like fine wine, pure honey is a product of a local terroir; the soil, water and climate all contribute to the complexity of regional honey flavors.
About the Experience
$750 minimum flat rate for up to 10 guests.
Experience is offered as a flat rate. Fewer than ten guests will not result in a discounted price.
- Learn how bees make honey and why pure honey never spoils.
- Learn the difference between honey varietals and what distinguishes them from one another.
- Learn the factors that influence honey flavors and production.
- Learn what to look for when searching for honey purity, and what to avoid.
- TASTE a variety of honeys and discover how they pair, compliment and enliven various foods.
- 2-.5 hour presentation includes honey, food pairings & champagne along with a honey souvenir!
- Visit the Honey house to see how pure, raw honey is processed from the comb.
- While this experience will include a view of the onsite beehives, please be aware that it does not include a full hive inspection with bee suits.
Don't Take Our Word For It
"Killer Bees is one of the great secrets of the Brevard/Western North Carolina area. My wife and I learned so much about these interesting creatures. Who would have known that bees are so interesting and complicated? The honey is the best we have ever tasted!"
- Trip Advisor Review
"Make sure you visit Killer Bees when you are in the Lake Toxaway area as it will exceed your expectations in every way!" 
- Google Review
"Killer Bees Honey was extremely easy to work with as we prepared to host 130 couples at the Old Edwards Inn. Denise helped us tailor a happy hour event that provided our members the opportunity to taste multiple honeys while mixing it with champagne. Denise went out of her way to make this event special and unique. Their knowledge of Bees and the Hive Life is extremely impressive. I would recommend them to anyone looking to host a great event."
- YPO Southern 7 Chapter
I've attended a couple of Killer Bees presentations, and they are engaging and educational. The honey produced on their beautiful farm is as good as honey gets, and the story behind it is fascinating. It will change the way you think about bees and honey.
- Jack Austin, General Manager, Half-Mile Farm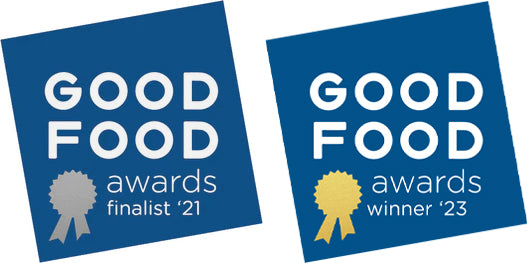 Good Food Awards Finalist
Killer Bees Honey is proud to be a 2021 Good Food Awards finalist & 2023 winner!
AWARD-WINNING HONEY
Inquire about Our Private Honey Tasting Experiences
Learn about the fascinating world of honey connoisseurship during private tastings of our award-winning honey.
CALL NOW TO INQUIRE